2012 Trip - Day 21
2011 Trip across the US
Other Trips
Wednesday, May 23 - Luna Lake Campground, Alpine, AZ - 149.5 Miles Today, 3546.5 For the Trip
A couple of additions from last night - the stars did immerge from the Pyrocumulus Clouds caused by a couple of wildfires to the west of the campground, so I got a few star photos. Not quite dark or clear enough for a good milky way image, but here is one: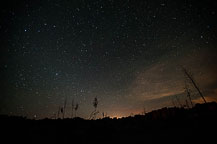 On the way west towards Silver City along US 180 is the largest man made pile of dirt I've ever seen. I looked it up & found it was the tailings of the El Chino copper mine. I did stop to do laundry in Silver City. The large machines made it easier & faster than it would have taken in a campground facility, plus I'm not sure how many of the campgrounds I plan to hit over the next couple of days will have laundromats.
After leaving Silver City I drove past two wildfires that produced the strange clouds over the campground last night.
At the general store in Glenwood (where I purchased the most expensive gas of the trip $4.09) they gave me the names of the two fires & introduced me to the term Pyrocumulus cloud. Four miles down the road gas was $3.89...
I stopped at Luna Lake Campground, a public, dry campground about 4 miles east of Alpine. None of my guides list campgrounds with hook ups in the area, and at 7960' elevation, it is cool enough that I don't need the air conditioner. While far from level, the site has shade and a view of the lake. It is very windy - hope it dies down enough that I can grill dinner. While the campground is pretty near empty, most of the sites have reservation stickers on them although most start tomorrow or later.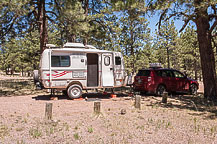 While the campground appears to be in the middle of nowhere, I have a good Verizon signal. No AT&T...
The plan is to drive through the Petrified Forest National Park, then on to either Gallup or Chinle for the night. I want to see the Canyon de Chelly National Monument & Mesa Verde National Park before heading west.
---
This page is maintained by: vermilye@oswego.edu
Last Update: May 24, 2012