2012 Trip - Day 20
2011 Trip across the US
Other Trips
Tuesday, May 22 - City of Rocks State Park, NM - 44.1 Miles Today, 3397 For the Trip
Another short drive today. City of Rocks State Park is a little northwest of Rockhound. This time I didn't make a reservation. I did check & Reserve America said there were no electric sites available. A sign at the park entrance said the same, but I decided to drive in anyway. I figured I could try to deal with the heat. The electric section was almost empty. Checked with the Campground Hosts & they said take any empty one, so here I am in Site E6. Actually, some of the non-electric sites might be cooler - the electric sites are in full sun while many of the non-electric have either trees or rocks shading them. Many would be tough to get the trailer into, but a few would work.
It is a neat park. Reminds me of an "aged" version of Goblin Valley in Utah, however at Goblin Valley you camp about 1/2 mile from the formations; here you are in them. I drove into Silver City to do laundry & pick up some food. Forgot the change & supplies for doing laundry so I just did the food. I'll hit the laundromat tomorrow.
Very windy this afternoon. My weather alert iPhone app kept buzzing with high wind & high fire conditions all afternoon. I actually used the front stabilizer jacks for the first time on the trip. I don't usually bother with them unless I'm going to be in the same place for awhile, but the wind was rocking the trailer.
While tonight's sunset was not up to yesterday's standards, it was still a keeper. Strange looking clouds that blocked & uncovered the sun. The sunset photos are in order - it got warmer & colder...
That is probably going to prevent any good star photographs. The place is dark enough, but the clouds that produced the interesting sunset are still here. At least the wind has died down, although it did that last night, then picked up around 2:00AM. It was strong enough that it shook the camera on the tripod, wreaking long exposures.
| | | | |
| --- | --- | --- | --- |
| | | | |
| Site E6, City of Rocks State Park, NM | City of Rocks | | City of Rocks Tent Site |
| | | | |
| City of Rocks | City of Rocks | City of Rocks Sunset | City of Rocks Sunset |
| | | | |
| City of Rocks Sunset | City of Rocks Sunset | City of Rocks Sunset | City of Rocks Sunset |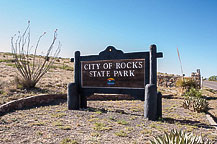 On the way out of the park & took this image of the park's sign and added it when updating the link to Wednesday's Page.
---
This page is maintained by: vermilye@oswego.edu
Last Update: February 15, 2013