2012 Trip - Day 22
2011 Trip across the US
Other Trips
Thursday, May 24 - Petrified Forest National Park, AZ - 193.3 Miles Today, 3739.8 For the Trip
Let me tell you the difference a couple of thousand feet can make. At the City of Rocks campground it got down to around 68°F at 4:00AM; last night at Luna Lake at 4:00AM it was 49°F. One thing was the same - the wind. Even though I was "sheltered" by large pine trees, the wind was shaking the trailer. I had to unhook to level the trailer so even with all 4 stabilizers down it wind was doing its thing. I didn't grill outside since I don't think I could have kept the grill lit. It did finally calm down around 9:00PM & was pretty quiet all night.
I reached the highest altitude of the trip (so far) on the pass north of Alpine on US 180 - 8580'. I continued on US 180 to the Petrified Forest National Park loop that goes between US 180 & I 40. Took a bunch of photos, including a couple of panoramas. I included one of the Painted Desert (part of the park) here.
If you have the bandwidth, here is a 4K wide, large (540KB) version of Panorama
After the park it was on to I 40 heading east. I'm in site 90 in the USA RV Park in Gallup, NM. Not too expensive for a commercial park (Last night's stay at the Luna Lake Forest Service park was $6.00 with my National Parks card) at $29.45. It is essentially a gravel parking lot with water & electric, but the bathrooms are clean and include a shower. Last night was vault toilets, although the cleanest ones I've ever seen. Anyway, I'm glad they have WiFi at the park since my Verizon connection is at 14K, slower than dial up.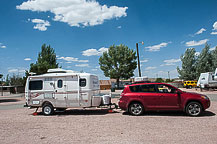 I'm now waiting for the wind to die down so I can grill some dinner. While I do have a stove in the trailer, I prefer to cook greasy food outside & most of my dinners are greasy!
---
This page is maintained by: vermilye@oswego.edu
Last Update: May 25, 2012