2011 Trip - Day 3
Back to Jon Vermilye's Photo & Trip Page
Other Trips:
---
Wednesday, April 20 - Fairmont, MN - 415.7 Miles, 1332 for the trip
Another early start, complete with an infamous Comfort Inn Waffle. Actually, they are pretty good, although probably not worth the extra $20.00 or so Comfort Inn charges compared to the Super 8 or Hotel 6. In any case, I headed west. The via from hell was still messing with the GPS. It kept wanting me to go back to Chicago! I finally dumped my original route - it took a couple of hours to build vias to keep it off the interstates; it may just have had too many vias for the Garmin to handle. In any case, I couldn't use the old route so I made a new one while sitting in a MacDonalds. As long as I was doing a new one, I ended up letting it use I90 across much on Minnesota. That will save me sone time, letting me get to Chilliwack earlier.
I did stop to take a couple of photographs of a Iowa farm just to show how flat it is. For those living in West Virginia, Colorado, or even New York, at least in the Adirondacks, it is difficult to imagine how flat land can be. Even on the Great Lakes plains in Oswego, we have enough hills that the only unbroken horizon is over Lake Ontario. Here it is flat in all directions. This pan gives some idea of how flat it is:

Another interesting thing I found is that grain elevators are no longer the tallest things in the area. Electric generating windmills are springing up all over the place. I saw at least 3 wind farms consisting of close to 100 towers each along the way.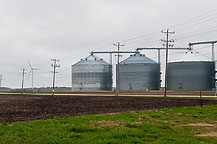 I was listening to Iowa Public Radio as I crossed the Mississippi; they announced that the flooding was in the top 10 recorded levels, presently at the 6th worst. I stopped at an overlook & took a photo of some flooded homes as well as a pan of the river: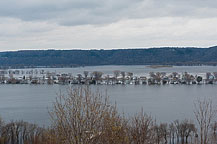 After that is was just piling on the miles until I got tired enough to stop. I did see a fair part of US 18, and a section of an old friend, US 20, but eventually hopped up I35 to I90 in MN. I stopped for the night at the Budget Inn in Fairmont, MN at I90 exit 102. An interesting place, and probably a mistake. It is cheap, however I'm not sure the heat is working all that well. The manager came in & "turned it on" but even with the thermostat cranked, it is pretty cold in here. Maybe I will treat myself to a Comfort Inn tomorrow! I did have a pretty good meal at the Chinese Buffet just down the street.
Till tomorrow...
---
This page is maintained by: vermilye@oswego.edu
Last Update: March 20, 2012