2011 Trip - Day 4
Back to Jon Vermilye's Photo & Trip Page
Other Trips:
---
Thursday, April 21 - Spearfish, SD - 510.8 Miles, 1842.9 for the trip
It was a cold, cold night at the Budget Inn. I suspect the manager does turn down the heat to save money. The thermostat on the wall doesn't do anything, and although the heat came on a few minutes after he left, it only stayed on for about 15 minutes, then went off forever. I got out my old wool army blanket I keep in the car & added it to the bed since it was 60° in the room. On the other hand, it was the most comfortable bed of the trip! By morning, it was up to 63°, just a degree or two lower than I keep my house, at least when not using the wood stove.
Had a Farmer's Omelette for breakfast at Perkins. OK, but I don't like their food as much as Dennys, and a greasy spoon diner has them both beat. After that it was back to I90 & heading west.
It is interesting to see all the electric generating wind farms in Minnesota. I suspect the state provides some kind of incentive since there was a group of anywhere from 20 - 100 machines every 50 miles or so. When I hit South Dakota's border, they stopped. The reason may also be because there is not as much a need for power in SD - at least along I90 there isn't a lot of development.
Since I'm ahead of schedule, I made a couple of stops. The first was at the Corn Palace in Mitchell, SD. We stopped there on our 1996 trip, so I decided to do it again. There seems to be a lot more buildings around the palace than there was in 1996, but I squeezed in a photo: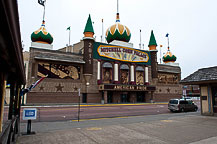 After that it was miles & miles on I90. I got off on exit 132 to drive through the Badlands. Again, we visited the Badlands National Park during our 1996 trip (photos are on the same page as the Corn Palace). The weather turned very warm, around 70 degrees, and although it was still cloudy & hazy, it wasn't raining. It was a great time to visit - not too hot, and no crowds! I took a bunch of photos, and built a panorama of one of the areas:
The loop that goes through the park only adds a 1/2 hour or so onto the trip, although I suspect it could be a lot worst when it is crowded. The park loop rejoins I90 in Wall. Anyone that has traveled across South Dakota has seen the signs for Wall Drugs - there are thousands of them! We have gone by Wall Drugs on a couple of our cross country trips, but never stopped. Since I was already in town, I decided to see the place for myself. A pure and admitted tourist trap! I didn't buy anything, but did take a photo: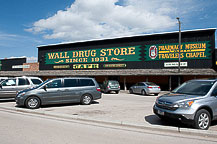 After that it was on to Spearhead, SD to stop for the night at a Super 8. This one is much nicer than the one in Kent, Ohio. Only problem is there seems to be a prediction of 5" of snow tomorrow. We shall see!
---
This page is maintained by: vermilye@oswego.edu
Last Update: March 20, 2012