2016 - 2017 Trip to the Southwest
Day 36
2011 Trip across the US
2012 Trip across the US
2014 Trip across the US
2015 Trip to Alaska
2015-16 Southwest Trip
2016 New England Trip
Monday, December 5, 2016, Lonesome Dove RV Ranch, Del Rio, TX, 209.1 Miles, 2,513.2 Miles For the Trip
It rained most of the night, but stopped in time for me to pack up the trailer for travel. No interstates today, with most of the driving on 70MPH 2 lane roads. Lots of oil wells along the drive. I don't know if it was the gaining of 1000' of altitude or headwinds, but today's mileage was only 11.1. I'm at the Lonesome Dove RV Ranch, just off US 90 in Del Rio, TX, Site 28, a full service site for $26.00. The place is a long term park, but they have a few sites for travelers. They also have a huge library where I traded a bunch of books.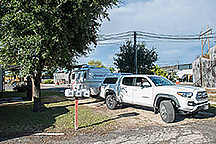 Site 28
After setting up the trailer I called the Del Rio Toyota dealership to see if I could get my 10,000 mile service. I'm a few miles short of the 10K, but won't be near another dealer for many miles. They did the service & a TSB that adjusts the transmission shift points - it has been hanging in lower gears after down shifting longer than necessary, particularly when not towing.
No picnic table at the site, so I set up my roll up table to grill a steak for dinner (along with peaches & a salad).
Until Tomorrow -
---
This page is maintained by: vermilye@oswego.edu
Last Update: December 6, 2016