2016 - 2017 Trip to the Southwest
Day 37
2011 Trip across the US
2012 Trip across the US
2014 Trip across the US
2015 Trip to Alaska
2015-16 Southwest Trip
2016 New England Trip
Tuesday, December 6, 2016, Rio Grande Village, Big Bend National Park, TX, 255.5 Miles, 2,768.7 Miles For the Trip
The first dry night in a couple of days. Cool, down to 41°F by morning. I headed out around 9:15 on US 90, and stayed on it until the town of Marathon, where I stopped at a small grocery store for some supplies, then south on TX 385.
The plan was to stop at the Stillwell ranch, a campground along TX 385 that has hookups, but after getting almost to the park, I decided I might as well look for a site there. Of course, with Big Bend, almost to the park is relative - it is another 45 miles to the campground. I'm in site 93 at the Rio Grande Village campground, a dry site for $7.00 per night with the Senior Park Pass. I'm here for two nights, after which I'll try for a couple of nights at the Cottonwood Campground.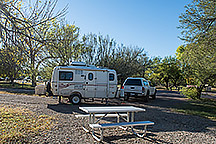 Site 93
There is no FM radio, WiFi, Cell coverage; the only contact with the outside world here at the campsite is XM Radio. There is WiFi available at the campground store, about 1/2 mile from my site. I'll head over there to try to post this when I'm done.
Dinner will be a grilled chicken patty along with a salad.
Until Tomorrow -
---
This page is maintained by: vermilye@oswego.edu
Last Update: December 8, 2016