2016 - 2017 Trip to the Southwest
Day 35
2011 Trip across the US
2012 Trip across the US
2014 Trip across the US
2015 Trip to Alaska
2015-16 Southwest Trip
2016 New England Trip
Sunday, December 4, 2016, Choke Canyon State Park, Calliham, TX, 199 Miles, 2,304.1 Miles For the Trip
Well, it is finally time to move on. The Matagorda Madness is pretty much over. It rained off & on all night, and into the morning. I disconnected the utilities & got the trailer ready between rain bursts, staying mostly dry. I headed out around 8:30, taking mostly 2 lane Texas roads (with 75MPH speed limits) and stopped for the afternoon at Choke Canyon State Park.
Speaking of Texas, I talked with more than one fiberglass trailer owner that felt there was no reason to tow their trailer out of the state. At first glance, that seems to be a bit narrow, but when you think about it, Texas is large enough and varied enough that you can get just about any scenery, weather, temperatures, etc without leaving the state. It is one of the few places where the road signs that label the exits by mileage has exit numbers close to 1000! Actually, you can get all the seasons (well, except for snow this year - they had it in the past) here at Matagorda in December. In any case, I enjoyed my stay and the rally.
I was concerned that I might have a problem getting into Choke Canyon State Park without a reservation since it is near San Antonio. No problem, there are only 3 trailers in the RV loop. I'm in site 119, a water & electric site for $22.00 + a $5.00 park entry fee. The 30 amp connection was dead, but I carry a 50 to 30 amp adapter, so I still have electricity. The campground is on a lake that is currently 19' below normal so while I'm on a site that borders the lake, you can barely see it.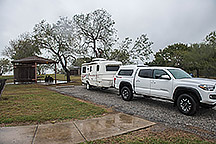 Site 119
I asked if the showers were heated, and people at the office checked with the rangers to see. The ranger said he would drive over & turn on the heat. Now that's service! Between the Texas State parks and the LCRA organization running Matagorda Bay Nature Center, Texas has the most helpful staff I've ever seen in a RV park or campground.
While Verizon shows a 4G LTE connection, it is the slowest one I've found on the trip. I couldn't load the large version of the campsite photo after 3 tries. I solved the problem by cutting down the quality to half what I normally post, shrinking the size of the file. And, the page itself loaded fine. It is still slow enough to make using a browser is not much fun.
We will see if the page makes it. Even AT&T has faster service. Too bad I can't tether my laptop to the AT&T iPhone. To do that I would have to give up my unlimited $40.00 per month data connection - it isn't going to happen!
I stopped by a Walmart on the way, and picked up a couple of NY strip steaks. While I was hoping for one for dinner, the rain hasn't let up enough to get out the grill & cook one. I suspect dinner will be a microwaved buritto & a salad.
Until Tomorrow -
---
This page is maintained by: vermilye@oswego.edu
Last Update: December 5, 2016