Cherry Blossom Time & Washington DC, 2005
Back to Jon Vermilye's Photo Page
Other Trips:
Other Pages:
Animals & Insects
Birds
Chipmunks
Flowers
Landscapes / Scenic
Lighthouses
New England & Nantucket
Oswego
Other Images
State & National Parks
Theatrical Images
Waterfalls
---
April 8 - Driving to the Hilton

April 9 - Cherry Blossoms & the Parade

April 10 - Great Falls & the US National Aboretum
April 11 - Home
---
Washington Trip 2009
Washington Trip 2010
April 7, 2005
Well, it's another April & we are planning another trip. Not quite as long as the last one but still a visit to our daughter Karin & her husband Brian. They have moved to Washington, DC & invited us down for the Cherry Blossom Festival. Seems like a good excuse to get away from the 40 degree weather here in Oswego. So, we checked on a couple of web sites for a hotel & found that a few others had the same idea. Of the few hotels still available, we finally settled on the Hilton in Silver Spring, MD. For those not familiar with the DC area, Maryland and Virginia are both within a few miles of the center of DC.
We decided to let a new (at least for us) mapping & GPS software choose the route - A first time trial of ALK's CoPilot Live software. Of course, it is PC only so running it on my Mac under Virtual PC is a bit slow, but it works. After planning the trip I'll transfer the file to our Toshiba laptop for the drive. The first interesting problem is to get use to the CoPilot interface. I have been using Delorme Street Atlas USA 2005 which goes about picking starts, stops & ends of routes differently. The next problem is my street does not seem to be in CoPilot's database so I have to use the map to pick the start. The hotel & Karin & Brian's address are OK. CoPilot tells us it is 409.6 miles & 6 hours & 45 minutes to the hotel & another 2 miles to Karin & Brian's. So, we are busy packing!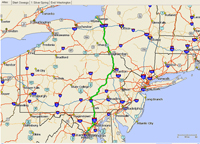 ---
This page is maintained by: vermilye@oswego.edu
Last Update: March 25, 2012