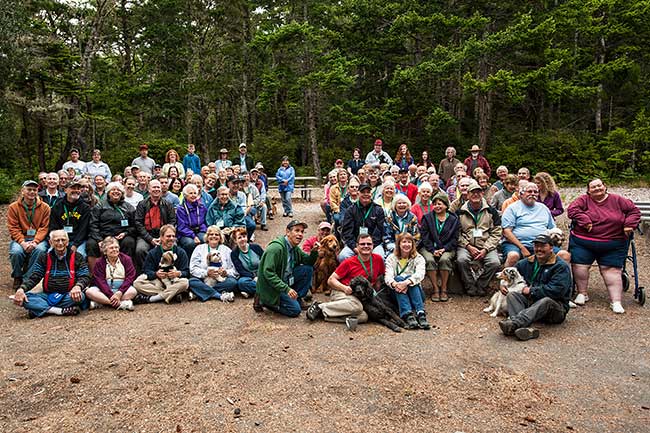 Saturday, July 14, Day 3
The 10th Annual Oregon Gathering has, well, gathered here at Bullards Beach State Park..
For those that have never attended the Oregon Gathering, there will be about 100 fiberglass trailers scattered about the three loops in the park. Activities over the rest of the week include workshops & Demonstrations, Golf Ball Horseshoes, a beer exchange, classes in many different areas, trailer tours, a pot luck dinner and a pot luck brunch on Sunday.
I'll add photos to these pages as the weekend progresses. I am also linking to photos of as many of the sites & trailers as I can get to. I'm sure I'll miss someone, but I apologies in advance - If you see me wandering around with a camera and I haven't taken your trailer's photo, let me know.
Link to Thursday, July 12, Day 1
Link to Friday, July 13, Day 2
Link to Sunday, July 15, Day 4
Everyone (well, almost everyone) was up and ready to go at 8:45AM to fill the amphitheater for the group photo. There are a couple of versions - the last one has everyone (except me!) I've included a link to a large version of the last two, however they are large 9MB+ files and unless you have a fast internet connection and want to print a version larger than 4" X 6" the smaller versions linked to the image will work. The large versions should print well up to 16" X 20".
| | | | |
| --- | --- | --- | --- |
| | | | |
| The Empty Amphitheater | We're Here! | Getting Instructions (And Announcing the Actual Photo Had Already Been Taken) | Everyone! |
| | | | |
I went to a wood flooring workshop in the morning, and in the afternoon started by showing the Escape 17B on the tour, and after the A Loop tours ended, checked out some trailers in the B & C loops. While the photos are not labeled with specific trailers, they give you an idea of how fiberglass trailers are furnished. There is a huge variety of ways to organize the basic functions, and most of the owners have made additional modifications that let the trailer better suit their individual needs. The tours were well attended, enough so that it is likely the person in the trailer photographs may well not be the owner.
Flooring Workshop

Trailer Interiors

Trailer Interiors

Trailer Interiors

Trailer Interiors

Trailer Interiors

Trailer Interiors

Trailer Interiors
After the trailer tours it was time to get ready for the Pot Luck, Awards, and Give Aways.
Give Aways & Prizes

Setting up the Pot Luck

Over 80 First

Everyone's Turn

Digging In

15 Minutes Later

Thank Yous

The Leggo RV

The Prize - A Marshmallow Gun

Horseshoe Golf Awards

Horseshoe Golf Awards

Horseshoe Golf Awards

Horseshoe Golf Awards

Landscape Photo Award

Landscape Photo Award

Comedy Photo Award

Comedy Photo

Pet Photo Award

Pet Photo Award

Honorable Mention Award

Honorable Mention Photo

Trailer Lights Winners

Newest Trailer Award

Oldest Trailer Award

Farthest Drive East

Farthest Travel

Beginning Prizes

Last Prize

Next Year's Organizers

S'Mores
If anyone wants a full size file (around 7MB) of any images, email me with the image ID & I'll sent one back to you.
---