Spring Fling 2023 Trip
Day 8, Home, Oswego, NY
2011 Trip across the US
2012 Trip across the US
2014 Trip across the US
2015 Trip to Alaska
2015-16 Southwest Trip
2016 New England Trip
2016 - 17 Southwest Trip
2017 - 18 Trip to Pick Up a New Escape 21 Trailer & More
2018 - 19 Trip to Winnipeg & the Albuquerque Balloon Fiesta
2019 - 2020 Trip to the Southwest
2021 - 2022 Trip to the Southwest
2022 - 2023 Trip to the Hungry Mother Rally
2017 Spring Fling
2018 Spring Fling
2019 Spring Fling
2021 Spring Fling
2022 Spring Fling
Tuesday, May 23, 2023 -Home, Oswego, NY, 211.4 Miles, 899.9 Miles For The Trip
Previous
Next
No problems on the hills with the truck overheating, so the replacement parts seem to have solved the problem. Too bad I didn't have the 2.7L engine - there was a recall for the overheating problem with that engine. Unfortunately, I had to pay to fix my 3.5L. I probably could have managed towing the 21 with the 2.7L; many folks do, but I decided to go for the bigger engine.
We are back in Oswego. Anne & Guido stayed for the night driveway camping. I unpacked what had to go into the house, but plan on doing the rest of the trailer & truck tomorrow. A good trip other than the problem with the truck.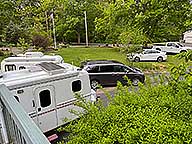 We are in Oswego
Our next planned adventure is Bolarama in Canada in July, although it is likely I will visit my brother in the Catskills between now & then.
Dinner was Anne's Honey Barbecued Chicken & mixed vegetables.
Until the next trip.
Previous
Next
This page is maintained by: vermilye@oswego.edu
Last Update: May 24, 2023