2011 Trip across the US
2012 Trip across the US
2014 Trip across the US
2015 Trip to Alaska
2015-16 Southwest Trip
2016 New England Trip
2016 - 17 Southwest Trip
2017 - 2018 Trip to Pick Up A New Escape Trailer & More

2017 Spring Fling
2018 Spring Fling
2019 Spring Fling
2021 Spring Fling

The 2022 6th Annual Spring Fling in New England, Chocorua Camping Village KOA, Tamworth, NH
We are at what I believe is the 6th Spring Fling at the Chocorua Camping Village KOA in Tamworth, NH. We arrived well before the start and have pages describing the trip & stay here at 2022 Trip To The Soring Fling.
Thursday, May 12th:
Thursday evening was a cheese & crackers get together:
Friday, May 13th:
Very nice weather, although a bit warm at 83°F.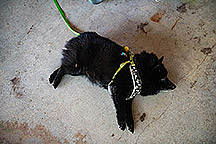 Too Hot For Dogs
I missed the painting demonstration, but did make it to the cooking demo where Gerry made One Pot Harvest Time Goulash, and Xin gave us samples of hard boiled eggs cooked in beer & Coca Cola, and Sticky Rice with Dates.
| | | | |
| --- | --- | --- | --- |
| | | | |
| Part of the Crowd | Gerry Cooking | The Demonstration | Xin and Sticky Rice |
At 5:00 Gerry and Barb finished grilling the chicken, the pot luck donations were spread across three tables, and the feast began. After eating, there were prizes and a 50/50.
Saturday, May 14, 2022:
Saturday morning was the "Shine & Show", the time to show off your trailers and the personalization you have done to them. I showed mine a couple of times then went around to a few taking photos:
For those interested, I have a page of photos from our afternoon trip up the Auto Road to the top of Mount Washington.
Sunday, May 15, 2022:
Not much to report other than most of the Spring Flingers headed out today. We (the Guidos & myself) are waiting until Tuesday. Some fairly heavy rain late in the afternoon. We made our reservations for next year and hope to see all of you & more in May, 2023.
---
This page is maintained by: vermilye@oswego.edu
Last Update: May 15, 2022