2012 Trip - Day 119
2011 Trip across the US
Other Trips
Wednesday, August 29 - Babcock State Park, WV - 184.1 Miles Today, 14,771.3 For the Trip
I wasn't planning on stopping at Babcock State Park because it has been so dry the Glade Creek that runs by the Grist Mill would probably be close to dry. Still, when I started checking campgrounds within a day's drive of Carter Caves in Kentucky, the only one I knew that had openings over the holiday weekend was Babcock. So, off I went. I spent most of the drive on I 64; knowing what many of the secondary roads in West Virginia were like. Even with that, Matilda of the GPS tried to route me on an undriveable road. I said no, and continued to Clifftop on US 60. Even US 60 has some interesting twists & turns, but at least it is paved. One of my earlier experiences with West Virginia & my GPS steering me wrong was in this area.
I'm in site 35 for the next 6 days. The campground has 30 amp electric, but no water or sewer. Not a big problem - I have enough water in the tank to do the week, and even if I go overboard & run out there is a fill station not too far from my site. They do have a nearby rest room with hot showers so I'm a happy camper.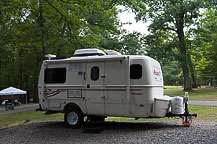 I did drive to the Glade Creek Grist Mill (about 2.5 miles from the campground) and as expected, the creek was just about empty. The mill race had weeds growing in it. I talked with the miller & he said this is the longest dry spell they have had since the mill opened. He hasn't been able to grind corn since early June. I'll probably try for a few photos one morning - the sun sets behind the mill making afternoon photos ugly.
Until Tomorrow -
---
This page is maintained by: vermilye@oswego.edu
Last Update: August 30, 2012