2012 Trip - Day 118
2011 Trip across the US
Other Trips
Tuesday, August 28 - Carter Caves State Park Campground, KY - 124.9 Miles Today, 14,587.2 For the Trip
While much of the driving was on US 68 today, unlike yesterday it was a much better road. A bit wider, fewer twists & hills, and most pleasing, trimmed bushes along the side of the road. I'm in site 22 at the Carter Cave State Park. I did plan to check out the caves, but discovered that I needed to do laundry. The way I can tell is when I run out of socks. Doing laundry was interesting. The price is 1/2 that of Kentucky Horse Park (also a Kentucky state park). While I was washing my 2 loads of clothes, someone came in and threw a bunch of clothes in the two dryers. He never came back. After mine were washed & his dryers stopped, I waited a bit, wondering when he'd be back, then the campground manager came into the laundry & asked if I needed change since my damp clothes were piled on the washer & the dryers weren't running. I said they were full & she proceeded to yank the clothes out of the dryers & said now they are empty. Mine dried for an hour & the guy had still not come back.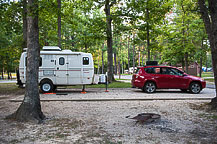 I spent the rest of the afternoon trying to determine where I'd be for the weekend. Like all the campgrounds I tried, this one is full. I finally talked with the attendant at Babcock State Park in West Virginia & she said they only have 6 campers in the park & there are plenty of open sites through the weekend. So, I'll skip the caves & head to West Virginia in the morning.
Dinner was a pizza; not one of mine or frozen. They have a restaurant here in the park & I ordered a sausage & mushroom pie. Not one of the best I've had, but it beat cooking!
Until Tomorrow -
---
This page is maintained by: vermilye@oswego.edu
Last Update: August 29, 2012