2012 Trip - Day 85
2011 Trip across the US
Other Trips
Thursday, July 26, Hidden Village RV Park & Campground, Lynden, WA - 80.3 Miles Today,10,603.9 For the Trip
I hate to say it, but another boring day on the road. Actually, the road wasn't all that boring - snow covered mountains on the right & what we, on the Great Lakes Plains would call small mountains on the left. I ditched the GPS & drove up WA 9, a pleasant 2 lane road rather than I 5. I stopped for the night at Lynden, WA in the Hidden Village RV Park & Campground. I'm in site R7, a water & electric site with a big back yard, but utilities on the wrong side, and not a lot of room on the door side of the trailer. No problem because there is a huge field behind the trailer & lots of picnic tables. I spent most of the day kicking back reading. Tomorrow I'm heading into Canada & Chilliwack, BC for a 2:00 appointment to have my refrigerator fixed. Here's hoping the refrigerator from hell will finally be tamed!
No photos for today other than the usual campsite: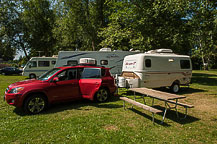 Dinner was more of the freezer food - a couple of kielbasas & my favorite pre packaged cole slaw - Dole's.
If I stay in Canada tomorrow night & don't have WiFi, there won't be an update - last time I checked, Verizon's data cost in Canada is $2.05 per MB. I'm pretty sure Millenicom has blocked Canada, but I'm shutting off roaming just in case.
Until tomorrow
---
This page is maintained by: vermilye@oswego.edu
Last Update: July 27, 2012