2012 Trip - Day 84
2011 Trip across the US
Other Trips
Wednesday, July 25, Wenberg County Park, WA - 112.9 Miles Today,10,523.6 For the Trip
Not much to say today. I got my "fix" on city driving coming up I 405 & I 5 going around Seattle. Lots of traffic - maybe more than usual since the president was leaving the city around the same time I was trying to drive around it. I tried setting my GPS for no highways - it went from 94 miles to Marysville to 654 miles. Rather interesting. I gave up & followed the first course. I know I could have used a map and managed to stay off the interstates, but trying to use a paper map while driving alone is tough!
I stopped for the night at the Wenberg County Park outside of Marysville, WA and am in site 11, a water & electric site for $25.00 + $7.50 for the Reserve America fee. Since I'm not really making a reservation it seems a bit much to pay a reservation fee, but some parks do all their paperwork through Reserve America & you get stuck with it even if you sign up & pay at the entrance booth.
Only photo for the day is the campsite, which is a nice back in with a mix of sun & shade and a huge lawn behind it.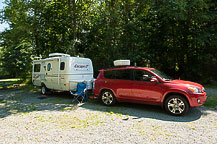 Till Tomorrow!
---
This page is maintained by: vermilye@oswego.edu
Last Update: July 26, 2012