2012 Trip - Day 13
2011 Trip across the US
Other Trips
Tuesday, May 15 - Rayford Crossing RV Resort, Spring, TX - 195.5 Miles Today, 2,304.6 For the Trip
Well here I am in Texas. The plan was to stop in Jaspar & get a haircut, however I never found a barber shop there. I did finally stop & Google barber shops in Livingston, and got my hair cut at the Sports Clips. I guess it is a chain - they gave me a coupon for a 1/2 price cut at the next one. I spent the rest of the day crawling along at 57 MPH on 70 MPH roads. I did remember to pull over to let people behind me pass. It seems to be a Texas thing - there is enough paving on the sides of the lanes to pull over & keep going while the driver behind you passes, even in a no passing section. You do have to keep your eyes on the road - the sides are where the "gators" collect & every once in awhile, the paved area disappears...
While the RV park I'm in is in Spring, I'm here to visit with Bob & Jean, my late wife Carol's sister & husband in The Woodlands, TX. I had a nice visit with them and a wonderful dinner - Thanks again for the steak & scallops, Bob!
After dinner it was back to the trailer & a late photo of site 75, a $45.00 full service pull through. I did get a Good Sam discount, although I paid $20.00 for the new Good Sam Membership. I'm not sure I will actually save the $20.00 in discounts at 10% off, but so far I'm $4.50 on the way.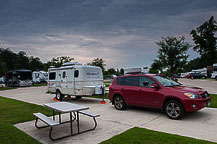 Tomorrow I start the long haul across the rest of Texas, heading to Carlsbad, NM.
---
This page is maintained by: vermilye@oswego.edu
Last Update: May 17, 2012