2012 Trip - Day 12
2011 Trip across the US
Other Trips
Monday, May 14 - South Toledo Bend State Park, LA - 207.1 Miles Today, 2,109.1 For the Trip
Another day spent traveling. You are even treated to another campground photo - the only one I took all day. Natchez was interesting, with some beautiful old buildings, but not the place to park with a trailer to take photographs. After crossing the Mississippi, I felt I was back in "old" territory. In 2005 I spent two weeks with the Red Cross based in Alexandria helping with the recovery after Hurricanes Katrina & Rita. In fact, as I crossed the bridge into Vidalia, LA I could see one of the buildings we worked in called Vidalia Landing. Looks like it is now a resort. I drove through many of the towns & parishes where we worked, including Leesville & Fort Polk, where I have different memories - I did my Advanced Infantry Training there prior to going to Viet Nam.
I eventually ended up for the night in site 16 in a LA park on the border with Texas. A nice looking ,pull through site (although I didn't know they charged extra for a pull through) with water & electric. I'm glad for the electric - for the first time this trip I ran the AC. The outdoor thermometer says 96°F although I think that is because it was in the sun (but then, so was I.) In any case, it has now cooled off enough to go back to the fan.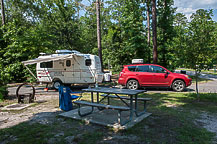 I ate the rest of the salad & my last "Bubba" burger - I don't know if they sell them around here, but there are about the best frozen hamburgers I've eaten. Thanks to Bert for introducing them to me!
That's about it for the day. I hope to visit with my sister & brother in law tomorrow, depending on how far I get. I also need a haircut. I tried today, but for what ever reason, barber shops don't seem to be open on Mondays.
Actually, I do have an update. I just returned from an evening run (well, walk) to the bathroom. Now, having lived most of my life on Snake Swamp Road (Well, since the doctors, lawyers, etc have moved in the name has been changed to Lakeshore Road - no class at all!) I thought I knew what the night creatures sounded like next to water. I have to say the chorus here at the campground is wonderful! More variety than I've heard anywhere else. Great to fall to sleep to!
---
This page is maintained by: vermilye@oswego.edu
Last Update: May 15, 2012