2012 Trip - Day 3
2011 Trip across the US
Other Trips
Saturday, May 5 - Bellefonte, PA KOA - 291.6 Miles, 526.9 For the Trip.
I've finally managed to get out of NY. One difference - the price of gas. Although I never thought I'd be glad to pay $3.99 for a gallon of gas, that is what it is down to at my usual station in Oswego. Here in PA, the price was $3.83 just across the border, and as low as $3.64 along the way. The route today was I81 to NY17 to US220. Matilda(the lady of the GPS) decided I should take US6 for a number of miles before getting back on US220; not sure why, but I'm here so it worked.
Sure am glad to actually be "on the trip." While I'm counting the miles to Don & Anne's (and back) a visit with them is normal, not a trip. In any case I'm starting out at one of the campgrounds I like to call the McDonalds of camping. KOAs are more expensive than many others, but you almost always know exactly what you are going to get. I guess I could have looked for something less expensive, but after driving almost 300 miles I'm tired of the road. They do have a fast WiFi internet connection, which is good because my cell phone connection is crawling.
Tonight is $33.30 (with the membership I purchased on the last trip). Nothing special, but a site with hookups which is nice if it gets cold tonight. Right now it is quite pleasant - 69°F, cloudy & looking like rain.
Of course I do have a campground photo - I always start out saying I'm going to take one of every stop, but rarely make it through a trip without missing one or more. We'll see. Nothing much in the way of "Scenic" photos. While it is spring, I haven't seen much in the way of flowers or other springtime pictures. A couple of interesting barns, but no where to stop to take a photo. I'm sure more opportunities will come along.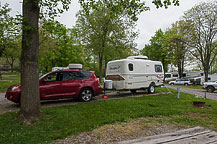 Bellefonte KOA, Site 34
I didn't bother to unhook the trailer so dinner will be something from the freezer. Probably a good idea - it is overstuffed since I didn't want to leave stuff at home that Kyle probably wouldn't eat. I do miss a larger freezer. I would have brought some of last season's blueberries for a pie (I did make a "secret ingredient" dry mix to make one on the road from fresh berries) but they are going to have to wait until I get back in the fall.
I did discover one "disaster" - I left my current book at home, so I'm not going to find out what happened to Randy Wayne White's Doc Ford & Crew in their latest adventure for 5 months unless I buy another copy on the trip. I'm glad I just started it - if I was at critical point I'd be going nuts! I've got plenty of replacement books, at least for awhile.
---
This page is maintained by: vermilye@oswego.edu
Last Update: May 6, 2012