2012 Trip - Day 2
2011 Trip across the US
Other Trips
Trip Index & Page 1
Friday, May 4 - Oswego, NY - 121.3 Miles, 235.3 For the Trip.
Well, this is certainly not where I expected to be tonight! I mentioned in the previous post the refrigerator was doing great in the freezer, but the main section wasn't cooling. I hoped it would settle down overnight, however by morning it was only down to 45°F. So, rather than fight with it for the entire trip I went back to Camping World in Syracuse. Got there around 9:30 - they felt sorry for me and put the trailer in the shop immediately. At least I didn't have to wait for half a week like last time.
They ran it on AC & gas & it worked. Opened the door until it hit 50°F, closed the door and 2 hours later (on AC or gas) it was down to 40°F. I was on a slight slant in Binghamton (half a bubble which has not caused problems in the past) and at Camping World it was a greater slant. About the only difference was they measured the temperature with a thermometer stuck in a glass of water. I can't do that with my digital thermometer (tried that last summer when it slid into the drip pan under the fins & it went "pouf".) According to Camping World, measuring in water is the Dometic approved method. Sure wish they had found something wrong, but it looks like I'm going to do my best to live with it
So, since by the time we finished it was 3:00, rather than heading out I drove back to Oswego. My son is sure going to be surprised to see the trailer in the driveway when he gets home from work!
I don't quite trust the thing, particularly since the flame still blows out when driving over 50MPH,so I'm doing what I did last summer - keeping a piece of block ice in a tray on one of the upper shelves. That helped quite a bit on hot days and it is almost 80°F here.
I really do plan to get going in the morning.
Another strange campground photo (Yes, it's home):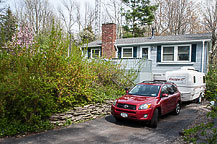 ---
This page is maintained by: vermilye@oswego.edu
Last Update: May 5, 2012