2011 Trip - Day 111
Back to Jon Vermilye's Photo & Trip Page
Other Trips:
---
Saturday, August 6 - Oswego, NY - 285.4 miles, 18,721.4 for the trip
Well, another change of plans. I'm home in Oswego, NY. I got an early start from Barrie, and when I reached the Niagara Falls area on the QEW, the overhead signs stated there was a 1-2 hour delay in the area my GPS told me to go to get to the Riverside Campground. Rather than deal with the delay or finding another way to get there I switched to the 420 & crossed into the US on the Rainbow bridge. About a 45 minute wait at the border, but the slow crawl across the bridge provided a great view of the falls. This time I remembered to get in the outside lane! No problems at the border. I have heard many stories of RV's being pulled over & searched for hours - I guess I'm lucky or look safe!
I'll probably do a wrap up post in a day or two. As of now, getting home is a mixed blessing - the Escape 17 does fit in the extra parking space in the driveway, although it is going to take something other than the RAV4 to get it into the final storage position. My 1200 sq. ft. house seems huge after 111 days in the trailer, but there are all kinds of things that need doing after a couple of months of not being here.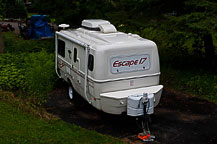 Oswego, NY
Until the next post -
This page is maintained by: vermilye@oswego.edu
Last Update: March 20, 2012