2011 Trip - Day 110
Back to Jon Vermilye's Photo & Trip Page
Other Trips:
---
Friday, August 5 - Barrie, Ontario, Canada - 223 miles, 18,436.0 for the trip
More driving east & south. I think I have shifted modes from "traveling to new adventures" to "going home". It was bound to happen - I didn't stop to take photographs of anything today (other than a photo of Site C3, the most expensive campsite of the trip here at the Barrie KOA). It is the first site I've been in that is actually designed as long term (concrete pad, phone hookup, etc.) I don't need any of that, but it was all that was left and I was tired of driving. I have to admit the Escape 17B looks a bit undersized among all the larger motorhomes & fifth wheels in the area, but it will do for the night!
The plan for tomorrow is to stop at the Riverside Motel & Campground in Niagara Falls. I could probably make it home, and may have to it there are no sites available, or at least to a NY campground, but since I'm staying there in September for the Niagara Wine Escape Rally, I thought I'd check out the site they assigned me.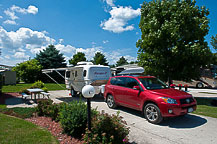 Until next time!
This page is maintained by: vermilye@oswego.edu
Last Update: March 20, 2012