2011 Trip - Day 88
Back to Jon Vermilye's Photo & Trip Page
Other Trips:
---
Thursday, July 14 - Great Falls, MT - 147.6 miles, 14,499.2 for the trip
Very little happening today. After a quick breakfast I packed up & headed for Great Falls, MT. On the way along US 89 there was a herd (well, 4, but they were all antlered males) elk running parallel to the road. It was amazing to watch. They leapt over cattle fences, and almost kept pace with the traffic for miles. No pictures since the road was busy & there were very few pull offs large enough for both the RAV4 & trailer, but they sure were impressive to watch!
The rest of the trip was mostly across flat, wide open spaces. I stopped early since I wanted to get the RAV4 serviced at the Great Falls Toyota dealer, City Motor Company. According to them the tires didn't need rotating, and the oil change was pretty quick, at least for a dealer.
I don't even have anything but a campground photo for today: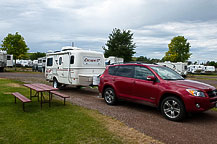 I'm in site 60 at Dick's RV Park here in Great Falls. A bit crowded, but they have hot showers (at least they promised them by this evening - they weren't working when I got here. After two days without hook ups of any kind, I'm sure anyone near by will appreciate showers! By the way, the solar did fine keeping up with the trailer's electrical demands, even with all the rain, much better than in the shade at Apgar Campground. The worst case was this morning - the batteries were down to 82% after recharging the laptop the iPod dock and running the router all night (I like to listen to Pandora), but back to 96% by the time I left. The combination of the RAV4's alternator & the trailer's solar had them back to 100% by the time I stopped for coffee at Browning.
Dinner was a quick stop at a Chinese Buffet. Kind of lazy, but I didn't feel like cooking.
Until tomorrow!
This page is maintained by: vermilye@oswego.edu
Last Update: March 20, 2012