2016 - 2017 Trip to the Southwest
Day 179
2011 Trip across the US
2012 Trip across the US
2014 Trip across the US
2015 Trip to Alaska
2015-16 Southwest Trip
2016 New England Trip
Thursday, April 27, 2017, Greenbelt National Park, MD, 168.6 miles, 8,133 Miles For the Trip
Well, I never saw either bear, and headed out of the campground around 10:00. Lots of interstate travels, which should have taken me within a few miles of the turnoff for Greenbelt National Park, but Matilda (my GPS) fooled me & got me into a turn lane I couldn't get out of. So, I had a tour of downtown Washington, DC, including crossing the Potomac, seeing the Capitol Building & Washington Monument, etc. With the horrible DC traffic, it added 2 1/2 hours to the trip, with me pulling into the campground around 3:30. I'm in Site B39, a dry site for $10.00 per night (with the senior pass discount) just big enough for the trailer & with enough slope that I have the tongue almost on the ground. Still, it is one of the few in the park that will get some sun on the solar panels.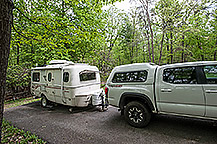 Site B39
After setting up the trailer I called Karin & headed to her house. Well, that was what I thought I was doing - I had a "Saved" on the GPS called Karin, and since I'd been there before, I started following the route. Tings looked familiar, but after getting most of the way there I realized it was to the apartment that they had just before going to Botswana! I'm glad they came back to Takoma Park since the new house was only a few miles away.
We walked to the school bus stop to pick up Zoe, then I stayed at the house while Karin went to pick up Brian & Valerie (it was take your kid to work day, so Valerie went with Brian).
I took a few photos, then we had Tacos for dinner. After that it was back to the campground by a more direct route.
| | | | |
| --- | --- | --- | --- |
| | | | |
| Zoe | Zoe Asked to Smile! | Everyone | Valerie |
Until tomorrow -
This page is maintained by: vermilye@oswego.edu
Last Update: April 28, 2017
---