2016 - 2017 Trip to the Southwest
Day 155
2011 Trip across the US
2012 Trip across the US
2014 Trip across the US
2015 Trip to Alaska
2015-16 Southwest Trip
2016 New England Trip
Monday, April 3, 2017, David Crockett State Park, Lawrenceburg, TN, 98.6 Miles, 7,272.9 Miles For the Trip
It rained off & on , mostly on, all night, including lightning & thunder, stopping just in time for me to pack up the trailer & head out. A relaxing drive on TN 100, US 412, and US 43 to Lawrenceburg. I crossed the Natchez Trace and pulled into David Crockett State Park around noon.
I asked for a site until Sunday, and while they had many for the week, few that included the weekend. I'm in site 94, a back in with water & electric and a distant picnic table for $20.66 per night with the Senior discount Tennessee gives to those over 62, even if they are from out of state. Thanks! A pretty site, although it looks like lots of sand has flowed across the site's pavement with yesterday's rain. I did manage to put down my plastic ground mat so I won't be tracking too much into the trailer.
Right now the campground is mostly empty. A couple on their way back to Quebec from wintering in the Rio Grand Vally of Texas moved in a few spaces below mine, but that is all in this loop. A few more in the upper area. The bathrooms, as well as the campground can be classified as "rustic", although in better shape than Chickasaw.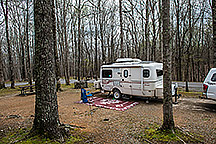 Site 94
While I was sitting outside a bunch of cars & trucks pulled up to the bathrooms. They are closing down the campground for the better part of a year starting in September to rebuilt the bathrooms & some of the sites. I suggested that they consider showers that didn't spray into the dressing room, and they thought that was a good idea. The problem is there is already a design for all Tennessee showers that may result in the problem even with new showers. The newest Tennessee campground I've been in was Tim Ford, and that had all kinds of shower problems.
After setting up, including a hummingbird feeder, I spend most of the day sitting outside reading. It started to rain around 4:30, and has been raining off & on since. Not too heavy, but too much to sit outside.
I read for a bit in the trailer, than fired up the toaster oven to heat up a frozen Boston Market Chicken Parmesan dinner. They make a bunch of dinners, but that is the only one I like.
Until Tomorrow -
This page is maintained by: vermilye@oswego.edu
Last Update: April 6, 2017
---