2016 - 2017 Trip to the Southwest
Day 154
2011 Trip across the US
2012 Trip across the US
2014 Trip across the US
2015 Trip to Alaska
2015-16 Southwest Trip
2016 New England Trip
Sunday, April 2, 2017, Chickasaw State Park, Chickasaw, TN, 132.7 Miles, 7,174.3 Miles For the Trip
A quiet night; even the dog next door didn't do a lot of barking. The owner mentioned that he was a problem and nipped at his kids. Just the kind of animal you let run loose in a campground!
After breakfast I packed up the trailer & headed to Tennessee. I stopped at one of the Memphis Rite Aids to pick up my prescriptions. They were able to fill all of them even though one still had 11 days before it was scheduled for filling. One of the most pleasant Rite Aids I've been to.
After that it was east on US 64 & TN 100 to Chickasaw State Park. There are probably better campgrounds on the way to Townsend, but this one is a short jog off the route, and I know what to expect - a somewhat run down (probably better to say "rustic") state park. I did get a better site than last year - I wouldn't have been able to get the trailer into last year's site with the truck. That was one big advantage of the RAV4. The short wheelbase, combined with the short distance between the hitch & rear wheels made the combination very maneuverable. I'm in site 20, a water & electric site for $20.48. I'm only staying one night - it is suppose to rain tomorrow & it looks like water runs through the site during a storm. It is hot & muggy. 89°F this afternoon. The campground, at least the lower section is almost empty - just me & the host.
Actually, the rain isn't waiting until tomorrow; it just started around 7:15PM. I don't have a lot of packing up the trailer to leave in the morning - I already unhooked the water, the truck is still hooked to the trailer & the site is level enough that I don't have any blocks or the Anderson Leveler out. All I have to do is disconnect the electric, close the front window protector, run up the tongue jack, & crank up the rear jacks.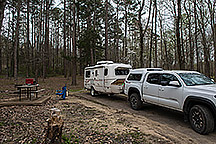 Site 20
I did some reading, both a book & the internet. There is WiFi here, but it doesn't currently have an internet connection. I have a good 4 bar Verizon 4G LTE signal, and one bar to none AT&T.
Dinner was a couple of grilled chicken thighs & a Knorr Rice & Broccoli side.
Until Tomorrow -
This page is maintained by: vermilye@oswego.edu
Last Update: April 6, 2017
---