2016 - 2017 Trip to the Southwest
Day 145
2011 Trip across the US
2012 Trip across the US
2014 Trip across the US
2015 Trip to Alaska
2015-16 Southwest Trip
2016 New England Trip
Friday, March 24, 2017, Dripping Springs State Park / Okmulgee City Park, Okmulgee, OK, 198.2 Miles, 6,630.7 Miles For the Trip
The wind died down around midnight, but picked up again around 7:00AM, although not the 60 MPH gusts of yesterday. Speaking of yesterday, a couple of interesting "finds". First, don't ever depend on Local Store.net to find something, at least drug stores. It is time to do my "grand refill" on my prescriptions - over the last year I choose my refill dates so all of them would come due at the same time to make it easier while traveling. Last year the problem was using my favorite local (ie Oswego) pharmacy. They don't have many stores outside NY state, so I had to get prescriptions filled at other pharmacies, which always meant canceled refills.
So. the solution was to leave my favorite pharmacy and go to a national one. The only one in my home town is Rite Aid, which does have stores in many states. Unfortunately, they don't have any in Arizona, New Mexico or northern Texas. I did a search on Local Store.net & they showed 5 Rite Aids in Oklahoma City. I called the one closest to my route to phone in the refills, and the phone answered CVS Pharmacy. Huh - well, maybe they changed stores. Called each of the others and they all answered CVS pharmacy! Seems there are no Rite Aids in Oklahoma. I don't think much of a store finding service that gives the wrong store! So, I will have to wait until I reach Tennessee to get my refills. I think I have enough...
The other interesting "find" was a wasp on the screen of my window around dusk. A close look showed I was viewing its back, meaning it was inside. I don't like wasps, so I got out the fly swatter & hit it. Now usually, when I use the fly swatter on a stinging insect, it either misses, or just "wings" it, letting it disappear into the trailer. This time I did get it, but then noticed another one between the screen & sliding window. I squashed that one, then wondered how many got inside and are hiding, waiting to nail me in the middle of the night! I didn't find any more, however this (today) afternoon I ran the window shade up all the way & discovered another wasp between the screen & window that rode all the way here. I'm not sure how the first got through the screen, but I'm glad the other two stayed outside.
Anyway, now to today. Most of the drive was on I 40 with enough side winds to make it a 2 hands on the steering wheel drive. Only 11.9 MPG for the day. I'm at Dripping Springs State Park, which seems to have become Okmulgee City Park. The campground map says it is a state park, but the campground host brought back my check that I had made out to Oklahoma State Parks, and asked if I could make it out to the city - the city took over the park last year. In any case, it is a large park with three campgrounds. I'm in site 20 in the Red Oak Campground, a water & Electric site for $18.00 per night, including a $2.00 senior discount. I'm here for tonight & Saturday. Like the last park, this one is mostly empty. There are two trailers other than me & the host in a campground with 60 sites.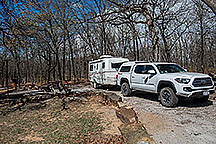 Site 20
It is my kind of campsite with lots of space between sites, a picnic table, and plenty of shade (at least once the red oaks leave out). The bathrooms are a bit primitive, but acceptable. One of the showers doesn't, but the other has a good showerhead, a bench, but no hooks for clothes, or any place for your soap or shampoo in the shower. No shower curtain, but not too much water ends up in the drying area. It looks like the bathhouse on the other end of the campground is newer, with individual showers, but this one works. Acceptable AT&T without an amplifier, and while only one bar of Verizon 4G LTE without the amp, with it 3 bars & acceptable speed.
I didn't do much other than read a few blogs & forums, and my latest book. It is warm out - in the high 70's, but still a little windy.
Dinner was a Bubba Turkey Burger & steamed snap peas.
This page is maintained by: vermilye@oswego.edu
Last Update: March 25, 2017
---