2016 - 2017 Trip to the Southwest
Day 144
2011 Trip across the US
2012 Trip across the US
2014 Trip across the US
2015 Trip to Alaska
2015-16 Southwest Trip
2016 New England Trip
Thursday, March 23, 2017, Cedar Point Campground, Foss State Park, OK, 197.1 Miles, 6,432.5 Miles For the Trip
I got an acceptably early start for the day, leaving the campground at 8:00AM. A very windy drive. Unfortunately, side winds, not a tailwind for most of the trip. I only averaged 11 MPG for the day, and getting a good shake at underpasses. There were a number of trailers on I40, and most of them were jumping around more than the Escape, so I didn't feel too bad.
I looked for a state park not too far from I 40, and selected Foss Lake. They have a bunch of campgrounds, 2 of which have electric & water. I tried to call to see if there were sites available, but only got a recorded message that told me to use the "Iron Ranger" to book any non reserved site. Of course that didn't tell me if any were available, but there was a KOA 10 miles away, so I went for it.
The first stop was the Cottonwood Campground with around 30 sites, all empty, with no reservations. It looked lonely, so I drove on to the Cedar Point campground, which is on the lake. 4 RVs at Cedar Point, so I parked in Site 13. I had to ask one of the park maintenance drivers for the location of the Iron Ranger - it was next to my site (but I have to say is didn't look like any Iron Ranger I've seen before.) It is a very nice site; even has a stack of firewood at the fire ring, but it is far too windy to use it or even sit around outside. I hope it calms down by evening. There is excellent Verizon & AT&T coverage here at the campground.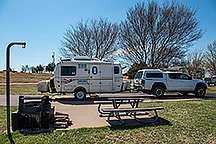 Site 13, Cedar Point Campground, Foss SP
The wind has not let up - in must be a steady 30MPH with stronger gusts. Even with the trailer still connected to the truck & all 4 stabilizers down, it is rocking in the wind. It is even rattling the trailer step!
It is a long walk (and into the wind) to the bathrooms. A strange location for them - the bathrooms with showers are in the picnic area, not near the RV section. Pay showers ($1.00 for 6 minutes) with low flow/high velocity showerheads. They also have a laundry at $1.50 per load. Tempting, but I don't have quite enough for a load. I'll have to decide if I want to brave the wind for a shower later.
Dinner was soup & a sandwich - no way I was going to grill outside.
This page is maintained by: vermilye@oswego.edu
Last Update: March 24, 2017
---