2016 - 2017 Trip to the Southwest
Day 140
2011 Trip across the US
2012 Trip across the US
2014 Trip across the US
2015 Trip to Alaska
2015-16 Southwest Trip
2016 New England Trip
Sunday, March 19, 2017, Oasis RV Resort, Amarillo, TX, 102.5 Miles, 6,197.6 Miles For the Trip
Another relatively short drive, mostly on US 60 and a little on I 40. As you cross into Texas, there are a bunch of cattle fattening farms, although I'm not sure whether they are considered farms or ranches, or businesses. Thousands of cattle in pens standing around waiting for the end.
I crossed into central time, so I lost another hour. I'm doing the page at 6:00, and it still seems like the middle of the afternoon. I'm at the Oasis RV Resort, "Amarillo's Newest, Largest & Finest". It definitely meets the description, although it isn't exactly my cup of tea. I'm in site 39, a full hookup site for $27.00. A level concrete pad, but no picnic table and not a tree in sight. They have individual bathrooms with showers that are very clean. They also have very fast, free WiFi. I will be moving on to Palo Duro Canyon State Park tomorrow.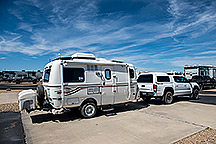 Site 39
It is very windy today. Because of a tailwind, I was getting 18 MPG on the early part of the trip, but the average for the day was down to 14.7 MPG. After setting up I put the awning out a couple of feet to get a piece of shade for both me & the refrigerator wall. The current temperature is 91°F, so I'm running the air conditioner again.
When I get around to feeling hungry, dinner will be left over shrimp Alfredo.
Until Tomorrow -
This page is maintained by: vermilye@oswego.edu
Last Update: March 20, 2017
---