2016 - 2017 Trip to the Southwest
Day 139
2011 Trip across the US
2012 Trip across the US
2014 Trip across the US
2015 Trip to Alaska
2015-16 Southwest Trip
2016 New England Trip
Saturday, March 18, 2017, Clovis RV Park, NM, 112 Miles, 6,095.1 Miles For the Trip
I had a short drive on US 70 to Clovis. I hoped to mail the grandkid's cards and the Build Sheet letter to Escape, but all the post offices I passed on the way were closed on Saturdays. They will have to wait until Monday.
I'm in site 37, a level enough to not unhook, full hookup site (with Cable TV) for $30.00. They have paid WiFi, however I have a strong Verizon signal so I'll use my Jetpack. While the office is only open from 2:00 - 4:00, they told me to call when I got here and they would send someone over to put me in a site. Individual bathrooms with showers that are spotless. All in all, pretty good for a commercial campground.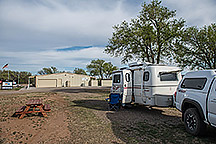 Site 37
I checked with what I hoped to be my next stop, Palo Duro Canyon State Park in Texas, but the on line reservation shows no sites available, and the office at the posted phone number is closed until Monday. I will see if they have any drive up sites available, but it not, there are many commercial sites in near by Amarillo.
I tried a reservation search starting Monday rather than Sunday, and got a 3 day booking at the Mesquite Campground at Palo Duro Canyon. I also have a Sunday reservation at a park in Amarillo, so I should be set for most of the week.
Other than setting up, I didn't do much but sit in the shade and read for the day. No where near as hot as the last two days.
Dinner was a Knorr's Alfredo with added shrimp.
Until Tomorrow -
This page is maintained by: vermilye@oswego.edu
Last Update: March 19, 2017
---