2016 - 2017 Trip to the Southwest
Day 65
2011 Trip across the US
2012 Trip across the US
2014 Trip across the US
2015 Trip to Alaska
2015-16 Southwest Trip
2016 New England Trip
Tuesday, January 3, 2017, Imperial Dam, CA, Day 4, 0 Miles, 3,923.7 Miles For the Trip
I took another sunset photo last night. The clouds were more interesting, with a bit more color than the day before, but there are still enough of them that I'm not going to get a chance to do any nighttime star photos.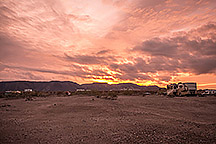 Colorful Sunset
After breakfast I headed to Yuma for some supplies. On the way I stopped by the Christan Center to get propane. I always feel a bit guilty getting my 1 gallon tank filled since the labor is the same for larger tanks, and the waste propane blown off connecting & disconnecting the tank is probably as much as goes in it, but since their price was $2.99 a gallon, I didn't feel too guilty!
I stopped at an RV store to pick up a couple of propane hoses. The last time I checked the tank to regulator hoses for the 20 pound tanks on the trailer, one of them had a few surface cracks. Since they are 5 years old, I decided it was time to replace them.
Back at the trailer I changed out the propane hoses, and as long as I was in a plumbing mood, replaced the pressure gauge on my water pressure regulator. I've been carrying around the replacement gauge for weeks, but since I haven't had hookups, didn't get around to replacing the bad one.
After that I tried sitting out under the clouds, but it was a bit too cool to be comfortable. There must have been some sun while I was in Yuma since I was down 24 amp hours when I left & was at plus 1 when I got back, but now there are fairly heavy clouds.
I met a new neighbor from British Columbia that moved in next door & chatted for awhile, then decided to do a major cleaning of my grill. Don (my former student and, along with his wife Anne, my favorite traveling companions) has the same grill & manages to keep his looking like new. I am of the "burn the old stuff off" school of grill cleaning, but ever once in awhile you need to dig in and scrape!
Dinner was a chicken Italian sausage, and Bush maple & bacon beans.
Until Tomorrow -
---
This page is maintained by: vermilye@oswego.edu
Last Update: January 4, 2017