2016 - 2017 Trip to the Southwest
Day 64
2011 Trip across the US
2012 Trip across the US
2014 Trip across the US
2015 Trip to Alaska
2015-16 Southwest Trip
2016 New England Trip
Monday, January 2, 2017, Imperial Dam, CA, Day 3, 0 Miles, 3,923.7 Miles For the Trip
I took a sunset photo last night that included a crescent moon & what I believe is Venus. Too much cloud cover moved in for any nighttime star photos.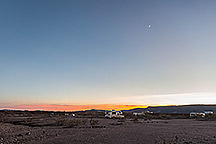 Sunset, The Moon & Venus
A dreary day with cool temperatures and heavy clouds. I finally climbed out of bed to the sounds of the Aerobics class in the Gravel Pit Ramada. I think they should do the Yoga group first - they are a lot quieter!
I went for a long walk around the area before breakfast, including a stop at the "Liberry" (their spelling) to drop off six books & pick up six more (the daily limit). The Liberry is a gutted Airstream trailer lined with books along the entire shell. Well labeled by genre, and sorted by author. They don't even ask you to reshelve the books yourself - there is a crew that does it. After that I spent the rest of the day doing nothing. Lots of reading, some outside wearing a sweatshirt with the hood up, and the trailer blocking a light wind.
I finally quit for dinner & started cooking my last Bubba Burger. About 1/2 way through I ran out of propane in the one gallon tank I use with the grill. I grabbed one of the 20 lb trailer tanks & used it to finished dinner. I'll try to get the tank filled tomorrow.
So, dinner was the last Bubba Burger & the rest of the coleslaw. I hope I can find the Fresh Express Coleslaw Kit again - I like the dressing that comes with the package.
Until Tomorrow -
---
This page is maintained by: vermilye@oswego.edu
Last Update: January 3, 2017