2016 - 2017 Trip to the Southwest
Day 19
2011 Trip across the US
2012 Trip across the US
2014 Trip across the US
2015 Trip to Alaska
2015-16 Southwest Trip
2016 New England Trip
Friday, November 18, 2016, Stonebridge RV Park, Sweeny, TX, 35.3 Miles, 2065.3 Miles For the Trip
Well, as you can see, there were no cancellations at Brazos Bend State Park even though thunderstorms were predicted for at least today. I thought about the overflow area, but decided to head out. Since I had a bit of time to kill before hitting the next campground, I drove to one of the lakes in the park & took a few photos of a posing egret. I watched him catch & eat a couple of small fish, but he (or she) was too fast for me; all the "catching" photos were too blurred to be useful. The first photo shows what happens when you haul out a camera from an insulated bag that sat in the truck overnight into warm, very humid surroundings.
| | | |
| --- | --- | --- |
| | | |
| Lens Condensation | An Egret | Another Image |
A short uneventful drive south on TX 35, although I did run into one of my pet peeves - Someone before me topped off their tank & spilled gas in front of the pump. I didn't notice it until I got back in the truck, then the smell hit me (at least it wasn't diesel). It also made my shoes slippery when I walked into Walmart. Yes, I know I was at one yesterday, but then I didn't know I was out of books. I started my last one last night (Ann Patchett's Run). I did find two books that I haven't read, and, of course, after paying full price for them I discovered a large trading library at the campground. At least I will be able to get rid of a couple pounds of already read books from the back of the truck.
After that it was another 10 miles to the campground, right on TX 35. I'm in site 17, a full hook up site for #35.00 per night for two nights. The campground labels itself as a "Resort", so no picnic table and a long run to the sewer connection, but a concrete pad that is level front to back, and only off a little left to right. There is a pool & hot tub...
There is a strong, 4G LTE Verizon signal, a weak 1 bar AT&T signal, and a fast, free campground WiFi that became too slow to be usable after I (and the rest of the park) got back from dinner.
Right now it is pouring. It has rained off & on all day, although only heavy for a short part of the drive & now.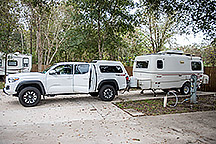 Site 17
I'm not sure what dinner will be, but it won't be something cooked outside. No table and pouring rain. Bay City is ten miles down the road, and I haven't eaten in a restaurant in awhile, so that may be the choice. If not, there is always the microwave or toaster oven.
Well, it is now 6:00 and I'm fed. Dinner was a flounder & shrimp dinner at he Baytown Seafood Restaurant. Much better than a chain and you couldn't beat the price.
Until tomorrow -
---
This page is maintained by: vermilye@oswego.edu
Last Update: November 24, 2016