2016 - 2017 Trip to the Southwest
Day 18
2011 Trip across the US
2012 Trip across the US
2014 Trip across the US
2015 Trip to Alaska
2015-16 Southwest Trip
2016 New England Trip
Thursday, November 17, 2016, Brazos Bend State Park, Needville, TX, 109.9 Miles, 2030 Miles For the Trip
On the way out of Double Lake park I stopped at a Walmart for some supplies & a replacement hose to go between my 1 gallon propane tank & the stove. While cooking dinner last night I kept smelling propane & eventually found one of the crimped fittings leaking. They did have a replacement hose as well as everything on my list, although a very limited selection of my favorite yogurt (Chobani coffee, blood orange, & pumpkin were not to be found).
It was 87°F at 2:00 today. I forgot to switch the refrigerator to propane (mine is manual) until I was half way to the campground. It is still trying to recover. Even now at 5:00, it is till 82°F. I just checked and it is 47F in my home town of Oswego, NY. I'm glad to be in Texas!
Driving through Houston wasn't much fun. I forgot what joy 4-5 lanes each way driving was like. At least I was late enough to miss the morning rush hours.
While the park is booked solid for the weekend, I did get a standard site for tonight, and will have to check back with the office at 10:15 tomorrow to see if there have been any cancellations. If not, I have a choice of another campground, or moving to the overflow area. I'm in site 227, a water & electric site for $20.00 plus $7.00 per day park entry fee.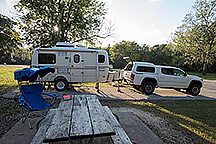 Site 227
I spent the entire day sitting outside reading. A slight breeze and shade made it comfortable even with the heat. I have a good Verizon 4G LTE signal (although a bit slow) and a 1 bar to none AT&T. I did manage to make a phone call to a KOA in Chocorua NH to make reservations for a fiberglass rally scheduled for next May. Only got the answering machine & they haven't called back...
Dinner was a microwaved chicken burrito.
Until tomorrow -
---
This page is maintained by: vermilye@oswego.edu
Last Update: November 24, 2016