2016 - 2017 Trip to the Southwest
Day 8
2011 Trip across the US
2012 Trip across the US
2014 Trip across the US
2015 Trip to Alaska
2015-16 Southwest Trip
2016 New England Trip
Monday, November 7, 2016 - Monte Sano State Park, AL - 235.3 Miles, 1106.3 Miles For the Trip
Back on the road after four days in one place, and a one night stop over in Townsend. Most of the drive was on the interstates, although some on 4 lane state roads. I'm at Monte Sano State Park in Alabama for two days. $27.50 for water & electric, next to the bathrooms. A very rustic campground with lots of trees, most of which are just starting to turn, although there are plenty on the ground. Enough that there is a burn ban on - no fires or even charcoal grills allowed. The campground overlooks Huntsville - the lights of the city look out of place when viewed from your campsite.
After setting up I walked around the campground, then sat and read. Last night I lost some evening daylight with the end of daylight savings time, tonight I crossed into central time. It is too dark to read outside at 5:00.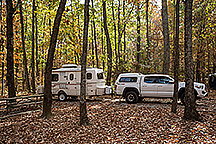 Site 50
I decided to try my new microwave for dinner (well, I'm not eating the microwave, just using it to cook a couple of El Monterey Chimichangas). Those plus a salad made up dinner. The microwave is only 600 watts & draws around 900 watts when operating on full power. I tried it using my 1000 watt inverter, and while the inverter alarms low voltage, it kept running. I hope I'll be able to use it while dry camping. Cooking a burrito in 2 minutes sure beats the hour it takes to set up my dutch oven & bake one!
Until next time -
---
This page is maintained by: vermilye@oswego.edu
Last Update: November 8, 2016