2016 - 2017 Trip to the Southwest
Day 7
2011 Trip across the US
2012 Trip across the US
2014 Trip across the US
2015 Trip to Alaska
2015-16 Southwest Trip
2016 New England Trip
Sunday, November 6, 2016 - Townsend/Great Smokies KOA, Townsend, TN - 164.8 Miles, 871 Miles For the Trip
I got up at 9:00, although it was really 8:00 since I forgot daylight savings time ended overnight. Still, what was important to me was the morning light & mist on the lake above the campground, so the time, at least on a clock, didn't matter. I loved the look of the mist on the lake when I hiked to it yesterday, but didn't have my camera. It only lasts until the temperature warms up close to the lake temperature, so I made another visit.
I'm usually disappointed with images of fog & mist because they don't photograph all that well, but in this case the back lighting helped. I'm pleased with the last image:
After that it was breakfast (with the left over blueberries on cereal) packing up the trailer & saying goodbyes to those still here. I'll probably see many of them again at Quartzsite & the Townsend Rally in the Spring. Speaking (well, typing) of Townsend, that is where I stopped for the day. Closer to my preferred 150 - 175 miles per day, I knew the campground from previous fiberglass rallies, and I wanted to make reservations for the rally in the Spring. I'm in site 70, a water & electric site (where I'll be in the April rally) for $34.58 for tonight.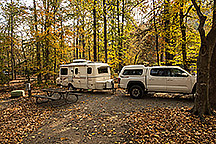 Site 70
After setting up I headed to the showers (at 31F it was just a bit too cold this morning) then read for a bit.
Dinner was a chicken fried steak, greens & fries at the Riverstone Restaurant next door to the campground. I love their fries, and the steak isn't bad either. I always eat there at least one evening while at the Townsend KOA, and I'm only here one night.
Until next time -
---
This page is maintained by: vermilye@oswego.edu
Last Update: November 7, 2016