The September 23 - 27 Northeast Gathering at Schodack Island State Park, NY - September 2016
Back to the Home Page
All photographs Copyright © 2016 Jon R. Vermilye

Other Pages:
Animals & Insects
Birds
Chipmunks
Flowers
Landscapes / Scenic
Lighthouses
New England & Nantucket
Oswego
Other Images
State & National Parks
Theatrical Images
Waterfalls
RV Related Pages
Fiberglass Trailer Information
---
This group held a rally in Massachusetts near Cape Cod in the Spring, however I had just traded the RAV4 for the Tacoma, and didn't have it set up to tow at the time of the rally. Since they were holding one in NY, and my schedule fit, here I am!
I arrived at Schodack Island State Park on Friday after a pleasant drive across upstate NY on NY 104, US 5 & US 20. US 20 was interesting - it goes through the middle of Albany, NY's capital. In fact, right next to the Erastus Corning Tower. At 590' and 44 floors, it has to be the tallest state office building in the nation. With the number of NY politicians & officials currently under indictment, they could probably lop off a few floors!
The Schodack Island State Park looks fairly new. Electric only sites are $24.00 per night, restrooms with showers are at the start of the loop. I'm in site 35, on sand, near the end of the loop. Some train noise (although rare horns) and a bit of traffic noise from the 912M bridge over the Hudson. One bar of AT&T, and a good 3 bar Verizon signal, although very slow for a 4G LTE connection.
I didn't do much other than set up and walk around the campground, meeting a few of the early arrivals. The only photo is of my site: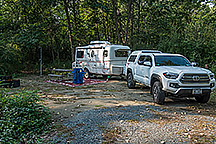 Site 35
Saturday was also a quiet day. I walked to the boat ramp (the park is located on an island in the Hudson River) did some reading, and towards the end of the afternoon, baked my traditional rally pot luck contribution, a blueberry pie. Some day I'm going to shock everyone that knows me and make something else, but I still had blueberries in the freezer so that's what I'm making.
We had a group campfire, no S'Mores, but fresh apple cider, cider donuts, and snacks passed around. I headed back to the trailer around 9:30 when me ears started to get numb.
Sunday, 9/25/16 -
It was a very cool night, at least compared to recent temperatures. At 5:00AM (don't ask how I knew) it was 44°F. Lots of sun, so it warmed up to the 60's fairly quickly. They are predicting scattered frosts tonight with lows in the mid 30's.
We are having the pot luck this afternoon around 4:00. A bit different from the traditional Saturday night meal, but it better fits the schedules of those coming to the rally, and will be more comfortable temperature wise. I walked around the campground taking a couple of photos of the trailers & participants.
| | | | |
| --- | --- | --- | --- |
| | | | |
| A Very New Scamp 13 | A Casita 17 | A Scamp 16 | A Casita 17 |
| | | | |
| Filling the Water Tank | Outside a Scamp 13 | | |
Photos from the afternoon & Pot Luck:
---
this page is maintained by: vermilye@oswego.edu
Last Update: September 25, 2016