Pickin' In The Pasture, Wednesday, August 25, 2021
Back to the Home Page
All photographs Copyright © 2021 Jon R. Vermilye

Other Trips:
2011 Trip across the US
2012 Trip across the US
2014 Trip across the US
2015 Trip to Alaska
2015-16 Southwest Trip
Other Pages:
Animals & Insects
Birds
Chipmunks
Flowers
Landscapes / Scenic
Lighthouses
New England & Nantucket
Oswego
Other Images
State & National Parks
Theatrical Images
Waterfalls
RV Related Pages
Fiberglass Trailer Information
Fiberglass Trailer Rallies I've Attended
---
After making my usual Wednesday deliveries for Meals on Wheels, I packed the last items in the trailer and headed to Lodi, NY. I attended Pickin' in the Pasture in 2016, but for a number of reasons, was not able to attend since. It was cancelled last year because of Covid, but on for 2021. Anne & Guido were going to attend; even bought the non refundable ticket, then discovered that they put it on their calendar for last week. They had too many unbreakable events scheduled for this week, so I'm here alone. Well, not quite alone - even though I arrived 1 1/2 hours after the "official" gate opening, the pastures are full:

The View From My Front Door
It is dry camping in a field (or pasture, and you need to watch out for the sheep leavings). They do have a water fill station, lots of portable potties, even cold water showers. Food is available, although I don't know what it is. Depending on when you purchased your ticket, the 3 day + gathering is between $70.00 - $90.00. RVs can arrive on Wednesday and leave Monday. They have a 24 hour generator section while the rest of the area has the usual generator hours. I'm in a fairly level area that is still fairly empty. No shade, and it is 94°F & high humidity.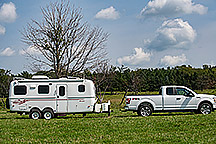 My "Site"
There is a bit of a breeze which helps, but I sure wish I had AC for the air conditioner. I did bring the 2K generator & a 20 pound propane tank if I really need it, but it is still sitting in the truck. The rest of the week is suppose to be a bit cooler .Again, today is for early arrivals - no bands. I'll put together some photos of the weekend as it progresses. Right now I'm sitting under the shade of the awning enjoying the breeze.
Dinner will be a Beyond Meat burger & chips.
---