Nantucket - Friday, August 26, 2011
Back to Jon Vermilye's Photo Page
Other Trips:
Nantucket Trip August, 2005
Nantucket Trip August, 2007
Nantucket Trip August, 2008
Nantucket Trip July 2010
---
Yesterday afternoon I made a blueberry pie. Now I'm not all that much a pastry chef, but I have had many compliments on my blueberry pies. I'm sure part of it is I usually make them from fresh blueberries from my garden, picked the day of baking the pie, but I've also made them from frozen berries. In any case, David's blueberry bushes were empty. I now appreciate having my own bushes. Nantucket prices are a bit steep, but $5.99 per pint for blueberries is outrageous! So, I made an $18.00 blueberry pie. I didn't think to take a picture until after a couple of pieces were gone, but here it is: (By the way, the pie photo was taken with my new Olympus TG810. Lots of bells & whistles, including GPS, although it missed the house by a couple of 100'. Like all point & shoots, the shutter lag drives me carzy, and changing settings is involved. Still, it works!)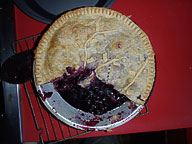 Today I went to get the rest of the sand for Luann. Since I wanted her to have a story for the sand, the first bag was $1,000,000 sand from Sconset. Today's was from the clothing option beach at Miacomet. As I said, sand itself is pretty boring, but sand with a story is much more interesting!
Not much else is going on. I defrosted a pork loin for dinner. I suspect we will spend part of tomorrow putting yard stuff away to avoid it getting blown away by Hurricane Irene. We still don't know what effect it will have on the island. The wind alone currently predicted to be in the 60 to 70 mile per hour range isn't much different than a typical Northeaster, but things change. Those closer to the shore may have problems - the new moon on Sunday produces tides about 1' higher than normal, and the storm serge on top of that may cause trouble. Since we are at the grand height of 29' above sea level and quite always inland, no problem here, although a couple of times in the past when Hummock Pond gets too full, the basement floods.