The Hungry Mother State Park Fiberglass Gathering, October 28 - 31, 2021
All photographs Copyright © 2021 Jon R. Vermilye - Feel free to use any of the images for non commercial use.

2011 Trip across the US
2012 Trip across the US
2014 Trip across the US
2015 Trip to Alaska
2015-16 Southwest Trip
2016 New England Trip
2016 - 17 Southwest Trip
2017 - 18 Trip to Pick Up a New Escape 21 Trailer & More
2018 - 19 Trip to Winnipeg & the Albuquerque Balloon Fiesta
2019 - 20 Trip to the Southwest
2021 - 2022 Trip to the Southwest
On a trip to the southwest for the winter, I stopped at the Hungry Mother State Park for a fiberglass trailer rally. I'm here early, arriving on Tuesday. Fall color is all around the park (it is a 2200') with warm days & cold nights. I'll add photos as the rally progresses.
Some photos from Wednesday, October 27th:
Thursday, October 28, 2021
Not many changes today. As far as I can tell, there was only one new arrival, a Casita parked across from me. I know there were some who were not able to get into the Burson Campground and made reservations for one of the other two other campgrounds in the park. I didn't check them today but will before the weekend is over.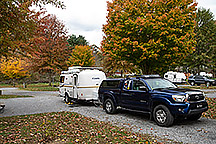 New Arrival
By the way, the Burson Campground has good Verizon data coverage, but no AT&T. I got 61.4Mbps down and 12.9Mbps up on Verizon, using Speakeasy.
Friday, October 29, 2021
Lots of new arrivals, including a ParkLiner & an Oliver. While there was rain overnight, it is beautiful this morning.
Although a beautiful morning and early afternoon, by 3:00 off & on rain fell for the rest of the day.
Saturday, October 30, 2021
A cool 48°F most of today, with light rain off & on. I stopped by Walt's Clam for coffee & talk this AM.
| | |
| --- | --- |
| | |
| Walt's Coffee Clam | The Morning Crowd |
The Cowboy dinner (sort of a pot luck with cooking by Walt) was canceled, so I'm handing out pieces of blueberry pie.
I did get out to take a short walk in the light rain around 4:00. A Scamp 19 just arrived, and I took a photo of the teardrop across the way belonging to a couple that has an Escape 21C on order & wanted a tour.
| | |
| --- | --- |
| | |
| The Scamp 19 | The Teardrop |
Sunday, October 31, 2021 - Happy Halloween!
Lttle rain ovenight. Most of us spent the morning packing up & hitting the road.