2011 Trip across the US
2012 Trip across the US
2014 Trip across the US
2015 Trip to Alaska
2015-16 Southwest Trip
2016 New England Trip
2016 - 17 Southwest Trip
2017 - 2018 Trip to Pick Up A New Escape Trailer & More
2018 - 19 Trip to Winnipeg, Albuquerque, and More
2019 - 2020 Southwest Trip
Christmas Scamp Camp 2019, Dead Horse Ranch State Park, Cottonwood, AZ
December 5 - 8, 2019
On the way to Quartzsite, AZ for the winter, I stopped for a weekend at the Dead Horse Ranch State Park in Cottonwood, AZ for the Christmas Scamp Camp. As usual, I took a bunch of photos at the rally.
Greg, the organizer of the rally gave a list of suggestions for things to do in the Verde Valley area and we did a couple of them during the afternoon. A trip to the Tuzigoot Ruins next door to the campground, the Verde Valley Railroad in Clarkdale, and lunch at Su Casa, an excellent Clarkdale Mexican restaurant.
Tuzigoot Ruins
Tuzigoot Ruins
Jerome From the Ruins
The Verde Canyon Railroad
Saturday, December 7:
Today's big event was the Cottonwood Christmas Parade. We headed out to main street, set up chairs, and watched. Collected about a pound of candy.
After lunch, it was open house for trailer visits. We toured until close to 4:30, checking out the modifications & additions done to the different trailers.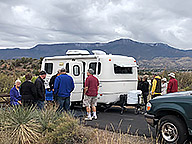 Making the Rounds
Sunday, December 8:
Actually, not much to add today. Lots of rain, with many leaving between cloudbursts.
---
This page is maintained by: vermilye@oswego.edu
Last Update: December 30, 2021