2012 Trip - Wrap Up
2011 Trip across the US
Other Trips
2012 Trip Wrap up - Lots of Photos

Better late than never? Anyway, some statistics for the trip: 138 days on the road, 16,255.4 miles, for an average of 118 miles per day. Since I didn't travel every day, the more realistic average is closer to 100 days traveling or 163 miles per day.
I kept an envelope of gas receipts - I know I missed a few since the MPG based on receipts is too high, and I do remember paying cash a couple of times. Total gallons - 923.4, total cost $3465.44 for an average price of $3.75. Most expensive was at Lee Vining, CA ($4.80 per gallon) least $3.37; I'm not sure where.
Campgrounds ran from free, parking in a friend's driveway to $54.00 per night at Riverside Campground in Niagara Falls, Canada. I didn't keep track of every campground price, but I spent less than last year since I got more comfortable living on the solar panel at non hookup sites. I would guess that my average was around $24.00 per night.
Well, I was bored, so I spent 3 hours and went through my credit card statements, my check book, and my notes, and actually found the exact costs per night for camping. The cheapest was still free, the most expensive still Riverside Campground at Niagara Falls, Ontario, Canada, but their price was an exchange corrected $48.90 per night. The average for the trip was $24.99, for a total of $3374.12. No, I'm not going to add up how much I spent of food & tee shirts! Overall, I did spend a bit more than I would have staying at home, but believe it or not, not all that much more. If you are interested in a copy of the Excel Spreadsheet with the data, click here.
My favorites? Of course I'm going to show them:
While not one of my favorite photos, by far my favorite cave of this & all my previous trips was the Caverns of Sonora in Sonora, TX. Not the most popular cave I've visited, but the formations are exquisite. Well worth a visit.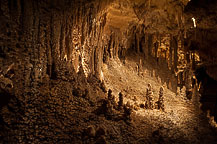 Caverns of Sonora, TX

I loved the sky & sunset photographs at Rockhound & City of Rocks State Parks in New Mexico. Unfortunately, most of the beauty of the images was caused by wild fires in the area, but I did get some nice images:

| | |
| --- | --- |
| | |
| Rockhound State Park, NN | City of Rocks State Park, NM |

For what ever reason, I took lots of nighttime photos this trip. One advantage of a full frame digital camera like the Nikon D700 is its low noise at high ISOs. I still haven't solved the problem of making the earth stand still so I can do longer than 30 second exposures without blurring the stars, but shooting at ISOs of 3200 helps!
| | | |
| --- | --- | --- |
| | | |
| Monument Valley, AZ | Kodachrome State Park, UT | Kodachrome State Park, UT (1 Hour Exposure) |
| | | |
| City of Rocks State Park, NM | Craters of the Moon National Monument, ID | Turquoise Lake, CO |

My all time favorite photo of the trip was on a hike up Mule Canyon near Blanding, UT. There is a Navajo ruin that is built under a section of cliff face that, when the lighting is right, looks like the roof is on fire. Naturally, it is called "House on Fire":

House on Fire, Mule Canyon, UT

While it isn't a photo of one of the arches, I liked this sunset image at Arches National Park in UT;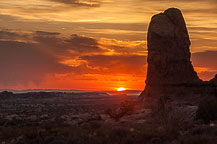 Arches National Park, UT

My favorite location on the trip was False Kiva in Canyonlands National Park. The combination of the view from the site with the feelings of isolation & serenity is wonderful. I suspect I'll go back each time I'm in the park. Another Canyonlands favorite is catching sunrise at Mesa Arch. I've yet to visit it without a crowd of photographers waiting to get a shot - well worth it.
| | |
| --- | --- |
| | |
| False Kiva, Canyonlands National Park, UT | Mesa Arch, Canyonlands National Park, UT |

While I stopped at Antelope Canyon twice last year, this year I visited the Lower Antelope Canyon. As or even more beautiful, and far less crowded.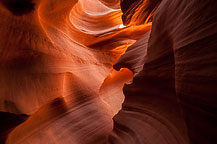 The Eagle, Lower Antelope Canyon, Page, AZ
Another highlight of the trip was the Oregon Gathering, the 10 annual gathering of fiberglass trailer owners at Bullards Beach State Park.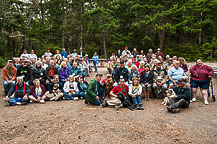 Group Photo - 10th Annual Gathering, Bullards Beach State Park, OR

One of my slight disappointments was arriving at the wrong time of day to photograph the Crystal Mill near Marble, CO. It was still a great trip, but the photographs would have been better with the sun behind me. Of course that means I'll just have to go back in the future!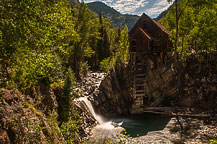 Crystal Mill, CO
And, of course, I have a bunch of waterfall photos:
| | | | |
| --- | --- | --- | --- |
| | | | |
| Burney Falls, CA | Susan Creek Falls, OR | | Stream Below Bridal Veil Falls, OR |
| | | | |
| Ricketts Glen State Park, PA | Ricketts Glen State Park, PA | Lower Falls, Letchworth State Park, NY | Narada Falls, Mt Rainier National Park, WA |

Well, if you managed to get through all the photos, that is the summary of my trip. Of course, there is much I left out - to see more you need to read the LakeshoreImages version of the trip. Thanks to all my followers, and looking forward to the next trip. It won't be a long cross country trip - I need to stay on the east coast next year. I do plan to make some shorter, somewhat localized trips in the near future.
Till then!
---
This page is maintained by: vermilye@oswego.edu
Last Update: October 1, 2012