2012 Trip - Day 129
2011 Trip across the US
Other Trips
Saturday, September 8 - Letchworth State Park, NY - 176.2 Miles Today, 15,556.1 For the Trip
I took my time getting up & out today - check out is 3:00 & I didn't have all that far to go. I even made a hot breakfast (bacon & eggs). I left on the road out of the top of the hill so I didn't have to try going down (I did that last fall & is isn't really a problem other than making sure you keep the speed down). After that it was US 220 north to NY, then 17 west. I did make a stop in Bath to have the trailer inspected. It was due in August, but since I wasn't in NY, there wasn't much I could do about it. Now I'm good until next September. It rained off & on over the entire drive to Letchworth. I was listening to WRVO in Oswego & they had a number of severe thunderstorm warnings, complete with hail, 60MPH winds, etc. Hope everything at home is OK.
I'm in site 309 at Letchworth State Park for the next 6 days. While there is no water, the site does have 30 amp power so unlike the last couple of days I don't have to depend on solar for electricity. I don't have a lot planned, although I'm sure I'll visit the main waterfalls, and maybe try to find some of the smaller ones. If I'm lucky, there will be balloon rides scheduled.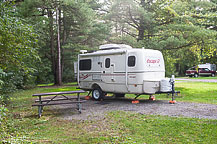 It cleared up long enough to make a sub from the left over steak, onions & peppers along with left over rice. Just as I finished cooking the rain started in again. So, no sitting outside this evening - it is cool enough that I'm glad I'm in the trailer anyway. I may even set up the electric heater.
I do have a Verizon internet connection - not super fast, but usable.
Until Tomorrow -
---
This page is maintained by: vermilye@oswego.edu
Last Update: September 9, 2012