2012 Trip - Day 110
2011 Trip across the US
Other Trips
Monday, August 20 -USI RV Park, Wichita, KS 176.9 Miles Today, 13,333.6 For the Trip
Another fairly boring day driving mostly east on US 50, US 400, & US 54 to Wichita, KS. I stopped at Eddy's Toyota for an oil change. They also checked the color of the transmission fluid & pronounced it OK. After that it was a quick search for a nearby campground, and the best recommendations from RV Park Reviews, my favorite "find a park" web page, was for USI RV Park in Wichita. It is pretty much a standard commercial park - spaces close together, full hookups (I did need to drain my tanks) a little shade, but nothing like the recent state & national parks. In any case, I'm here and will continue on in the morning. I hope to find something to photograph - I'm getting bored with campsite photos!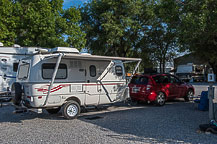 Site B2, USI RV Park, Wichita, KS
Not sure what dinner will be - there is no picnic table, and I haven't decided if I want to find & drag one to the site, set up my own tiny table, or just make a sandwich and eat inside. It is still (at 6:30) hot - 90°F outside. I know that is cooler than it has been in the area, but still hot compared to where I've been for the last couple of weeks.
Until Tomorrow -
---
This page is maintained by: vermilye@oswego.edu
Last Update: August 21, 2012