2012 Trip - Day 100
2011 Trip across the US
Other Trips
Friday, August 10 - Tabor Campground, Turquoise Lake, CO .5 Miles Today, 12,533.6 For the Trip
I may end up posting more but I have moved, and while it is only 1/2 a mile from my previous campsite, the Verizon connection is much slower. Don't know if it was a move to a different tower or traffic is heavier, but posting is difficult. Anyway, I'm now in site 12 at the Tabor Campground. It is a first come, first served site & in many ways nicer than the last one. It is true I no longer have a picnic table, and it is a longer walk to the dumpster & bathroom, and it is essentially a parking lot for boaters (although not too many are using it since the lake is so low the ramp is not usable), but my site is at the end, isolated from the main parking area & the view is worth a million bucks!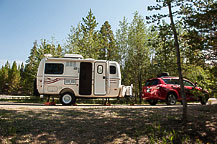 Site 12, Tabor Campground
Here is a photo of the view. Now I'm cheating a bit - there are actually a few trees between the trailer & the lake, but I took this image 20 steps from the trailer (a larger version (1920 X 654, .5MB) of the view)

View From Site 12
I'll relax for a bit, then head into Leadville to see Dick & Anne.
Until later!
---
This page is maintained by: vermilye@oswego.edu
Last Update: August 11, 2012