2012 Trip - Day 96
2011 Trip across the US
Other Trips
Monday, August 6 - Father Dyer Campground, Leadville, CO, - 28.3 Miles Today, 12,478.2 For the Trip
I did make it out to Turquoise Lake this morning in time to get a site - While I can't stay over the weekend when all the sites are reserved, I'm in site 8, at the Father Dyer Campground, one of the many scattered around Turquoise Lake. A pretty pull through site, and one of the few that has enough openings in the tree cover to keep the solar panel happy. It is interesting - I have a stronger and faster Verizon here in the campground (out in the middle of nowhere, although a beautiful nowhere) than I did in the city of Leadville. I also have a good AT&T signal. After setting up the trailer I headed back into Leadville. The plan was to get a haircut today, but I couldn't get an appointment until Thursday. Instead, I found a car wash and took a layer of road dirt off the RAV4. I am still getting Utah red sand (dust) washing out from under the tailgate every time I wash the car. Will it ever go away?
Nothing other than a campground photo today. Hope for something interesting tomorrow.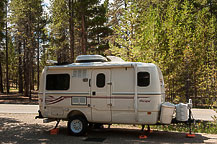 Dinner will be meatloaf at Dick & Anne's - I'm getting lazy not cooking for myself!
Until Tomorrow!
---
This page is maintained by: vermilye@oswego.edu
Last Update: August 7, 2012