2012 Trip - Day 89
2011 Trip across the US
Other Trips
Monday, July 30 - Emigrant Springs State Park, OR - 171 Miles Today, 11,213.8 For the Trip
The pork loin was great. I felt a bit strange grilling it outdoors since Trailer Inns RV Park has very small sites (even a half size picnic table) and it seems everyone lives inside their trailers, but they just had to live with the wonderful aroma of garlic & grilled pork!
This morning I got a fairly early (for me) start, heading out of the park around 8:45. I made a quick stop at Walmart for some supplies, then headed down WA 22, I 82 & I 84 to Emigrant Springs State Park, Site B19. A good place to stop if you don't mind a bit of traffic noise - it is fairly close to I 84, particularly the full hook up sites in the A loop, but many of the sites are large enough for even big RV . I'm in the B loop, a bit further from the road. Full hookups for $20.00. While the sites are reservable, there were lots of empty sites at 1:30 when I arrived, although most of the B loop full hookups are now filled.
Nothing much in the way of photographs other than the usual campsite: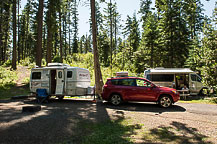 Dinner will be a sandwich using over pork loin, left over rice & left over coleslaw. I hope to make it into Idaho tomorrow, although a stop at Craters of the Moon, a favorite park, will probably have to wait at least another day.
Until Tomorrow!
---
This page is maintained by: vermilye@oswego.edu
Last Update: April 14, 2013