2012 Trip - Day 87
2011 Trip across the US
Other Trips
Saturday, July 28, Gold Bar, WA & Gold Dust Days - 106.3 Miles Today,10,880 For the Trip
As I mentioned yesterday, I wanted to see & photograph the view from Artist's Point at the end of the Mt Baker Highway. The problem was it was even cloudier this morning than yesterday, and there was no room at the inn. So, Artist's Point has been added to the "Next Trip" file.
I drove down I5 to US 2 & started heading southeast. I checked for campgrounds along the way, and it looked like the first one that might have some room would either be a National Forest one in the Cascades, or on the other side at Levenworth. Fortunately, I stopped at a tourist visitors center in Sultan after finding that a hotel that was listed on my GPS as having a campground didn't. They suggested stopping at what looks like a run down trailer park that has a nice campground behind it. McDaniel's RV Park is a nice campground, but because of "Gold Dust Days" in Gold Bar, the campground was full. I tried anyway & they put me in a field next to the campground. Actually a nice location now that my refrigerator runs on propane. Mountains behind me & lots of sun to keep the solar panel happy. The only problem is they didn't tell me the bathroom code & it seems they all went to the the celebration.
I dropped the trailer & went into Gold Bar to see what Gold Dust Days was all about. Lots of booths, both crafts & food, a Classic car contest (You know you are getting old when you have owned one of these when it was new.) A 1966 Chevy II Nova was my wife's college graduation present - we drove it for years. Only a 6, but it ran & ran. They also had horse rides, A Civil War Camp and something I haven't seen in years - a Hose/Water Ball (I've heard it called either) contest between the area volunteer fire departments. It started a little late since the sponsoring team had a water rescue call but once it was underway it was great fun. The announcer mentioned to the audience that they "might" get wet, and they did. I managed to get a bunch of photos without drowning the camera.
After the contest I stopped in a Greek booth for my annual Gyro. Kind of interesting - if I was in Oswego, I would have had the same lunch today. Oswego's Harborfest Celebration is today and that is where I usually get my Gyro fix. I hope it came off OK - the prediction according to friends in Oswego is for thunderstorms today. A few years ago I shot photos of the fireworks during a thunderstorm. Some interesting photos of man made & nature's displays together.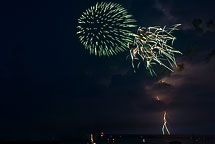 The Gyro booth here in Gold Bar had an interesting side dish - Curly Fries. I didn't know they were Greek, but they sure were popular!
| | | | |
| --- | --- | --- | --- |
| | | | |
| Classic Cars | Classic Cars | Classic Car | Dog in a Pouch |
| | | | |
| Making Curly Fries | Cooking Curly Fries | A serious Sized Serving! | Civil War Reenactor |
| | | | |
| Civil War Reenactors | Civil War Reenactors | Getting Ready For Hose Ball | Getting Ready For Hose Ball |
| | | | |
| Getting Ready For Hose Ball | Getting Ready For Hose Ball | Go! | Hose Ball |
| | | | |
| Getting Wet! | Hose Ball | Hose Ball | Hose Ball |
| | | | |
| Hose Ball | Hose Ball | Site "In the Field" at McDaniel's RV Park | The View From the Park |
Since a late lunch was a Gyro, I'm snacking for dinner. Good news - the campground owner stopped by while I was typing this to give me the bathroom code. Looks like I'll get a shower after all!
Until tomorrow
---
This page is maintained by: vermilye@oswego.edu
Last Update: July 29, 2012