2012 Trip - Day 74
2011 Trip across the US
Other Trips
Sunday, July 15, Bullards Beach State Park, Bandon, OR, Day 7 - 4 Miles Today, 9,598.5 For the Trip
Well, it does feel like the Oregon Gathering is over. Instead of two Casitas parked next to me there are two large Class As. I'm leaving to head north tomorrow. How far I get depends on whether I can find an RV dealer that has a thermostat for my Dometic RM2510 Refrigerator. It is a unusual model, so I'm not optimistic, but since Reace, the owner of Escape Trailer Industries (the manufacturer of my trailer) was here at the rally & told me that he has had the problems I described & the thermostat was the problem, I need to find one. If no one has one in stock I'll try calling the parts department at the service department of an RV dealer somewhere ahead of my travels & see if they can order one from Dometic.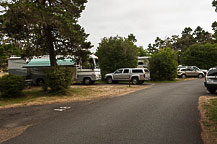 The Casitas Are Gone!
We did have a small gathering of those left in the park to toast marshmallows & talk:
| | | |
| --- | --- | --- |
| | | |
| Sunday Night Gathering | Toasting Marshmallows | The Perfect Marshmallowy! |
Sad to see it all come to an end, particularly because I have to stay on the east coast for the summer of 2013 so I can't attend next year. Of course there is always 2014!
Till Tomorrow -
---
This page is maintained by: vermilye@oswego.edu
Last Update: July 16, 2012