2012 Trip - Day 66
2011 Trip across the US
Other Trips
Saturday, July 7, Rivers Edge RV Park, Coquille, OR - 75.7 Miles Today, 9,491.5 For the Trip
I did manage to stop at Walmart & pick up a few books so my sanity should be OK for the next couple of days. I was stopped in Wilson. OR as I drove along OR 42 by a group of car washers from the Crash Youth Ministry. I did ask if they really wanted to wash the RAV4 AND the trailer, and they said yes. Took about 6 of them 45 minutes to do both & it was a pretty good job. I gave them a bit extra over my estimate for the price for 2 vehicles since the trailer was pretty dirty. The Graffiti Weekend that I linked to in yesterday's post covers quite a portion of the area. There were events in Glide, Roseburg, and this afternoon, in Wilson.
I continued on to Coquille, OR & The Rivers Edge RV Park, site 17. A nice, clean park that looks to be mostly full time resident, but I have a nice site along the river I wish I had more laundry to do - the machines are the least expensive I've seen on the trip, but I don't have enough for a full load.
I checked with Reserve America, and was able to add the 9th to my reservation for site A08 at Bullards, so I only have 2 days to kill rather than three. I'll probably head to Bandon, the town next to Bullards for tomorrow night.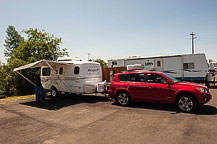 Since the sausage didn't defrost last night, I'll have it tonight.
Till Tomorrow -
---
This page is maintained by: vermilye@oswego.edu
Last Update: July 8, 2012